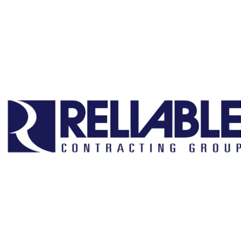 Construction Project Manager
Elizabethtown, KY
Dental Insurance, Disability Insurance, Health Insurance, Life Insurance, Vision Insurance
Reliable Contracting Group, one of the nation's premier military and commercial fueling (Prime) contractors, is seeking a

Construction Project Manager
for its Louisville, KY office.

Successful candidate must be a self-starter, motivated, and possess the ability to work in a fast paced environment and have a strong attention to detail. Candidate must be prepared to be fully engaged and busy from the first day.

Occasional Travel to project sites may be required

Benefits include paid vacation, company paid life insurance, company partial paid health insurance, optional: life insurance, short term disability, long term disability, vision, dental insurance, 401K. There is a generous match on 401K after waiting period.

Interested candidates please reply in strict confidence via e-mail using quick apply method with resume attached. See apply buttons. No phone calls.

All qualified applicants will be considered for employment without regard to race, color, national origin, disability, religion, age, genetic information, sex, sexual orientation, gender identity or veteran status. Veterans are encouraged to apply.

Due to the specialized nature of our work, we will contact only those candidates who most closely match our requirements.
Bachelor's degree in construction or construction related field not a requirement, but a plus.
Ten years of experience in managing projects directly or lead assist project manager in complicated mechanical / industrial / fueling construction projects.
Past experience in federal construction projects a plus.

Position involves initial project development, research permitting and preparing construction work plans, supervision; planning, organizing, and helping direct all phases of onsite construction.
In addition, the candidate will prepare budgets and cost estimates, assist with bids; develop and review plans and specifications; as well as solicit material and equipment pricing.
Candidate should be able to create schedules and update as needed; implementing and monitoring company safety policies and procedures; providing technical assistance to construction crews and subcontractors; helping ensure the project is constructed safely and within budget; oversee preparation of submittals and/or Operational and Maintenance manuals; and any other project related duties.
Strong in Microsoft Office
Strong written and verbal communication skills
Well organized
Self-Regulatory
Outcome oriented
Dependable
Possess a strong sense of urgency
Hold Outstanding and professional oral, written communication, and interpersonal skills.
Have the ability to work in a team environment.
17381